We won the International Rebel Girls Holiday Store display contest!
As you may or may not know creativity means everything to me and I love manifesting beautiful spaces, so I take our store display very seriously.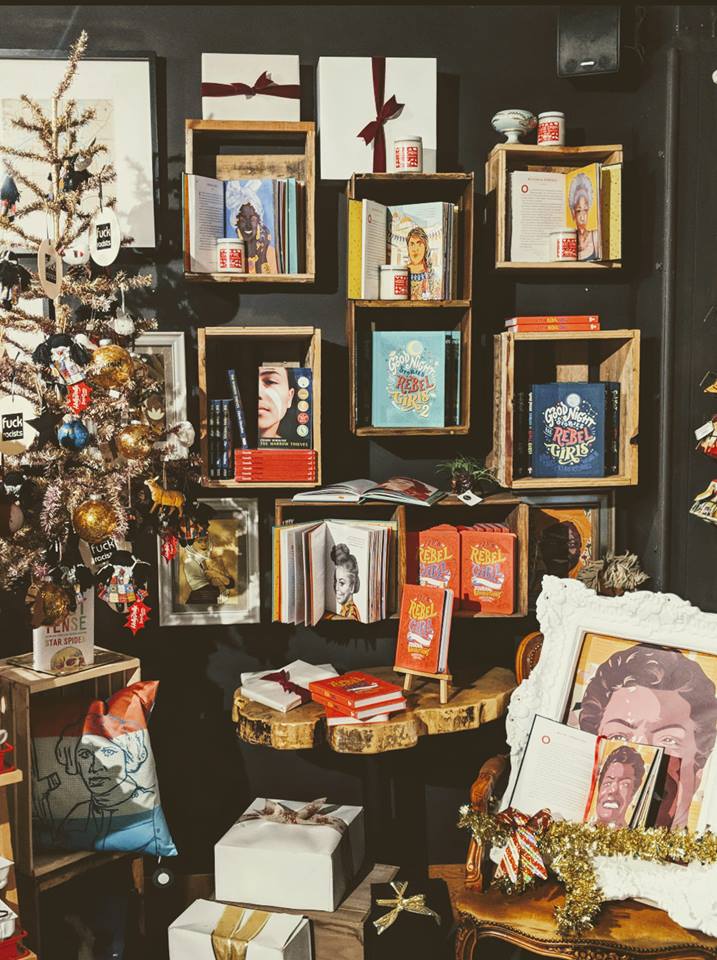 I'll often work late into the night to make sure the display is as interesting and attractive as possible. A recognition like this gives a nod to all those long long long (did I say long?) Looooong nights, I was at the store, sleep deprived and grumpy AF…often wondering if anyone actually notices…!?!?!?
More importantly though being an Anti-racist Feminist is who I have always been. Since I was a child (4yrs old, yup!) I have been speaking out against Injustice and Oppression and I haven't stopped yet. Can't stop, won't stop.
So the Rebel Girls books are a culmination of two of my favourite things: representation and art! More than winning any other prize this means a lot because of what it represents: Rebel Girls acknowledging other Rebel Girls.
So we came first and you know what that means? We might get a visit from the fab creators of the whole Rebel Girls series: Elena Favilli and Francesa Cavallo.
They are forces to be reckoned with and we are glad to be partners with them on the journey for representation that changes the status quo.
Go Rebel Girls Go!!!
Can you imagine stores across the world had big Rebel Girls displays and we were all making the statement together at the same time. Feels Really Really Good.
Amidst all the amazing stores across the world that had done a Rebel Girls display, here is the announcement for the contest winners.
……..
Rebel Display Contest Winners Announced!
Timbuktu Labs is proud to announce
the 6 winners of our Rebel Display Contest…
CONGRATULATIONS!
Old's Cool General Store
THE GRAND PRIZE WINNER…
Old's Cool General Store
250 Westlake Avenue, Toronto, ON M4C 4T4, Canada
"More than a store, this is a movement.
A movement for human kindness and connectedness.
Guided by two age-old principles: relationships matter and spending time together in person matters. We believe that people need to regularly congregate in community, sharing the ups and downs of life, banding together to overcome immense challenges. Our goal is to provide the space and resources for this to happen. We plan to fund our community building goals primarily through social enterprise. To that end we hope to provide our customers with an eclectic array of some of the finest creations available. We are the first "Boutique" Community Center and we hope to prove that this is a sustainable model. Mostly though, we want to live rich social and cultural lives within our community."
Books Ahoy!
THE FIRST RUNNER UP…
Books Ahoy!
No. 3 Yong Siak Street, Singapore 168642
"The brainchild of Woods in the Books, Books Ahoy! believes reading is the cornerstone of a child's ingenuity. Nurturing a love for books is the greatest gift to children. Books Ahoy! aims to grow the appetite of mighty young readers through a selection of picture and chapter books for both early and independent readers."
Touch of Grayce
SECOND RUNNER UP…
Touch of Grayce
65 Main Street, Genesco, NY 14454, United States
"Touch of Grayce opened its doors in May of '95, and has been located at 65 Main Street for 23 years! They bring handmade, locally made & ethically sourced products to the community.
Their products come from as close as the bee-keeper around the corner to as far as artisans in India. Every item was thought-out, hand-selected, and brought to you with special care."
The Wicker Park Secret Agent Supply Co.
HONORABLE MENTION
The Wicker Park Secret Agent Supply Co.
1276 N Milwaukee Ave., Chicago IL 60622, United States
"The Secret Agent Supply Co. is the storefront of 826CHI, a non-profit organization dedicated to supporting students aged 6-18 with their creative and expository writing skills, and to helping teachers inspire their students to write."
Interabang Books
HONORABLE MENTION
Interabang Books
10720 Preston Road #1009B, Dallas, TX 75241, United States
"Interabang Books is an independent bookstore with a hand-picked selection of books and a wide array of gifts for adults and kids. They opened in July 2017 and carry 12,000+ titles in popular categories. The store features a flexible event space with seating for up to 100 people for book signings and a children's stage for weekly story times and other programs."
Juliette Gordon Low Birthplace
HONORABLE MENTION
Juliette Gordon Low Birthplace (The Girl Scouts of the USA)
142 Bull St, Savannah, GA 31401, United States
"From Girl Scout merchandise, to locally made soaps and honey, to fair-trade items from all over the world, the Juliette Gordon Low Birthplace shop offers a unique selection of gifts and souvenirs for everyone. We feature girl and women makers worldwide, who produce beautiful, handmade artisan goods. We are proud to support women-owned businesses, as well as better trading conditions and sustainability at home and abroad."
………
This is so so so cool! We are so proud to be amidst such good company. Thanks to the Rebel Girls Team for this wonderful recognition. It means so much to us.
Lots and lots of love, Zahra